Best Neighborhoods in New Port Richey, FL - Full Guide
Situated near Florida's gulf coast and north of Tampa, New Port Richey is a beautiful city with a population of 17,092 people. Its vicinity to huge metropolitan communities combined with its astonishing sea shores brings in many thriving businesses, housing options, and people from different walks of life. This city is an hour's driving distance from nearby cities like Tampa, St. Petersburg, and Clearwater.
New Port Richey is a four-season paradise for watersports and outdoor enthusiasts. Swimming, kayaking, paddleboarding, snorkeling, bike riding, and hiking are popular activities on the crystal-blue Gulf waters. It's a fantastic holiday-like destination with extensive marine and wildlife and dazzling sandy beaches.
New Port Richey, FL, has a competitive housing market, with the median home prices estimated at $285,000, slightly higher than the national average. Getting around this city is a breeze, with plenty of convenient transportation options around town, such as public buses.
List of The 5 Best Neighborhoods in New Port Richey
Check out why each of these communities made it on our best neighborhoods in New Port Richey, FL list.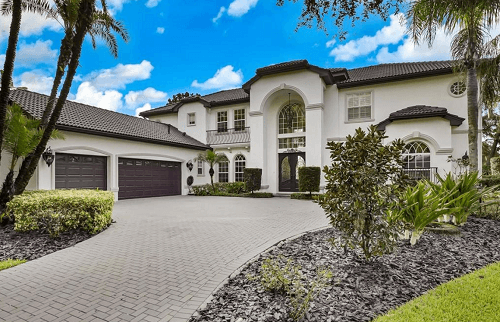 Known for being a wealthy gated community, The Champions Club falls southeast of New Port Richey.
The median home listing price in The Champions Club, New Port Richey, FL is $950,000. Many of the homes listed for sale in The Champion Clubs feature at least 3 beds and 2 baths, with some houses having 6 beds and 7 baths. These homes start at about 1,877 square ranging up to about 6,000 square feet.
There are multiple highly-rated schools located in the heart of The Champions Club, such as:
Trinity Elementary School
Seven Springs Middle School
James W. Mitchell High School
Living in this neighborhood offers plenty of perks and amenities. Residents are just minutes from the luxurious 10,800 square-foot Fox Hollow Golf Club and Restaurant.
The Champion Club is mostly filled with people earning upper-middle income, and this neighborhood earns a higher income than 76.1% of other neighborhoods in the United States.
Since this neighborhood is gated, you can have peace of mind knowing it's safe and secure for all residents.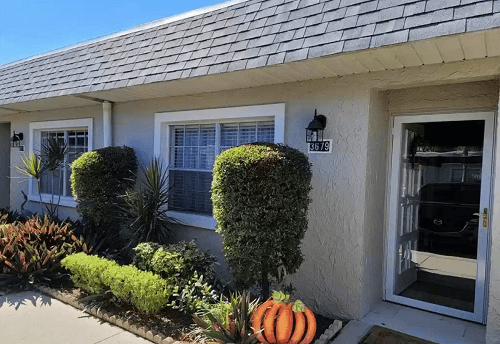 Located in the Southeast New Port Richey region, lies Seven Springs Villa, a peaceful neighborhood with close access to grocery stores, cafes, and restaurants. Living in this southeast neighborhood, you'll find many staple businesses like Target, Marshalls, and Walmart Supercenter.
Compared to the housing market at The Champions Club, Seven Springs Villas is much more affordable. The average home for sale is listed at a price of $171,300. You'll find many modest homes between 700 square feet to 1,800 square feet.
One of the main attractions is the Seven Springs Villas Golf and Country Club. Members receive access to a fitness center, outdoor pools, a golf course, dining rooms, and more.
Parents looking for schools will be delighted to know there are plenty of education options, such as:
Seven Springs Middle School
JW Mitchell High School
Trinity College of Florida.
Seven Springs Villa is one of the best places in New Port Richey if you're looking for an affordable housing option without sacrificing the many amenities that this city has to offer.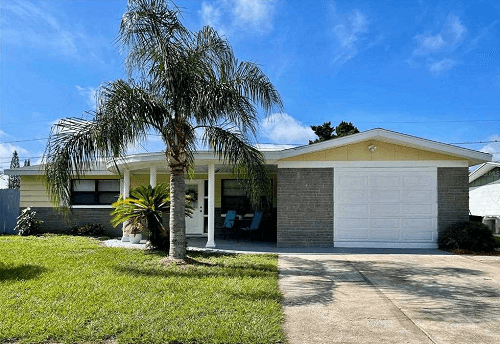 Magnolia Estates is a stunning gated subdivision in New Port Richey, FL offers some excellent schools nearby and close proximity to the best Gulf beaches.
The median home listing price is $690,927. You'll find plenty of well-maintained homes ranging from 2 to 5 bedrooms to 4 bathrooms.
Magnolia Estates is one the best places to raise your family. Their combination of owner-occupied single-family homes, top public schools, and low crime rates give this area a very family-friendly feel. You'll find a variety of schools suited to your child's needs, including:
Athenian Academy of Technology
Reconnections Education Center
Ignite Academy
Primary Prep School
Living in Flor-a-mar is one of the closest things to paradise you'll find in America. This small coastal town in New Port Richey, Fl, is filled with beachfront property and just steps away from the shoreline.
Everywhere you walk, there are boats, palm trees, sandy beaches, and extravagant seafood restaurants, making it the perfect neighborhood for retirees or water enthusiasts.
It has an average home price of $669,000 and currently has 32 homes listed for sale.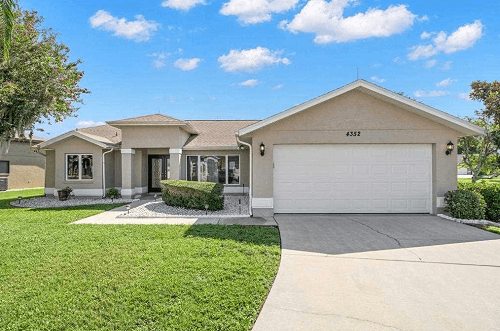 As the name suggests, Millpond is a community with several open ponds. The median home price for Millpond is $284,500 and primarily consists of single-family homes and townhomes.
This town features a handful of top-rated schools, including:
River Ridge Middle School
River Ridge High School
The real estate market in this town features primarily three to four-bedroom single-family homes ranging from 1,300 to 2,500 square feet.
Complete Listing of New Port Richey Neighborhoods & Communities
New Port Richey – The Crown Jewel of the Central West Florida
Make New Port Richey your new home. Known for arguably some of the best beaches in America, you'll be hard-pressed to find another city with many great amenities and outdoor attractions in Florida.
Still haven't quite found what you're looking for? Head to GatorRated.com to see what other areas in Florida might best suit you and your family.