What To Do When I Buy A House in 2023 – First-Time Checklist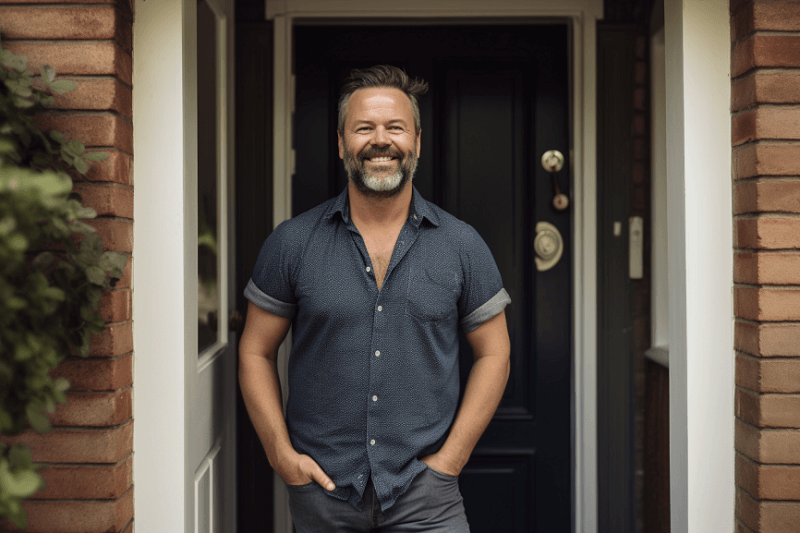 Owning a home is one of life's greatest experiences and can be incredibly overwhelming. Are you ready to take the plunge and become a homeowner?
Buying a house is an exciting journey, but there are lots to consider before signing on the dotted line. You need to:
Get pre-approved for a mortgage
Choose a real estate agent
Do some house hunting
Know what requirements you need to buy
Schedule an inspection
Make an offer with negotiation tips
Symbolically speaking, buying your first home is like taking off on a flight – you have to understand how all the parts work together for it to reach its destination.
With this guide, you'll be more than equipped for your journey toward homeownership!
Get Preapproved for a Mortgage: A First-Time Homeowner's Guide
Getting pre-approved for a mortgage can be an exciting step toward becoming a first-time homeowner! While it requires some effort and can sometimes feel overwhelming, understanding the process and taking the right steps can help make it easier.
As a potential home buyer, you should understand what type of home you're looking for in order to find something that meets your needs. You'll also need to determine how much you can afford by researching typical monthly payments for similar homes in the area and exploring different types of mortgages available.
Once you've discovered the right property and applied for preapproval from your mortgage lender, they'll assess your ability to repay any loan they offer. Buyers typically need to provide details about their income, employment history, credit scores, down payment size, debt-to-income ratio, and other assets that could factor into their chances of being approved for a mortgage.
To ensure that everything goes smoothly during the approval process, it's important to create a budget before looking at properties or applying for preapproval from lenders. Estimating costs like maintenance fees and new water heaters ahead of time will help get more realistic figures when deciding on what type of home to purchase and how much of an investment one is willing to make.
Additionally, having access to financial documents such as bank statements helps support applications since lenders require evidence that applicants are financially sound enough to pay back their monthly loan payments over time.
Once all paperwork has been submitted and reviewed by lenders or brokers, it's important to wait until all conditions have been met before signing any final documents or closing on a house. Depending on how quickly banks process applications, it may take several weeks, but once everything has been verified, buyers can purchase their first home!
Generally, the better credit rating you have, the lower the interest rate. Finding a home is easy once you've got fundamentals out of the way.
Though additional costs may be associated with owning property, such as utility bills or landscaping expenses, these shouldn't prevent potential buyers from enjoying their new place or starting on this exciting journey, as it may just be your best investment.
Find the Right Real Estate Agent to Make an Offer on a House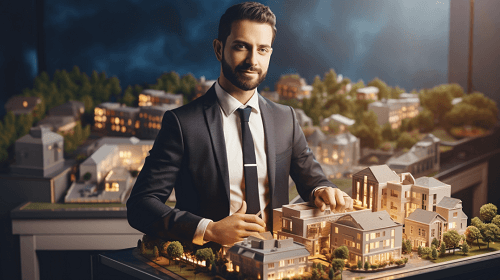 Once you've identified the perfect property, engaging a real estate agent to make an offer is essential to navigating the process easily and finesse.
Deciding on the right real estate agent means doing your research. Ask friends and family for recommendations of agents they've used in the past or look up reviews online. It's important to find someone who has experience with home buying, is knowledgeable about current market conditions, and can provide insight into local neighborhoods.
Once you've found your ideal real estate agent, it's time to buy! They'll help you through the entire home-buying process, from getting pre-approved for a mortgage to finding a house that meets all your needs. Your real estate agent will be there along every step of your house-hunting journey, from making an initial offer on the house through closing on it.
Buyers must ask questions throughout their home-buying process as they may not be familiar with some of the terminology associated with real estate transactions. Asking questions such as what closing costs are associated with purchasing a new home can save time and money and ensure that everything goes smoothly during negotiations.
Documentation & Relationships
Furthermore, understanding what documents are needed when making an offer on the house can help move things along quickly and efficiently once both parties agree upon an acceptable price range. Your real estate agent should also provide guidance when selecting inspectors or contractors if inspections reveal any issues that need addressing before purchasing a property.
These professionals can evaluate any potential repairs or improvements and create estimates for how much those services will cost so buyers know exactly what they are signing onto before finalizing their purchase agreement. Finally, having an experienced professional by your side during this time allows you to focus on other aspects of buying a new home, like moving day plans, while feeling confident knowing all details of purchasing a property are taken care of properly and by applicable laws.
Real estate agents serve an invaluable role in helping home buyers successfully navigate all aspects from start to finish. Taking the time upfront to select one who fits your needs ensures you'll have someone reliable working hard on your behalf throughout each step in the home-buying process, so you can rest assured knowing everything is being handled properly and according to plan without additional stress or worry along the way!
House Hunting: Steps to Buying a House
Embarking on the exciting home-buying journey can be overwhelming, but you don't have to go it alone! House hunting is an essential step in buying a new home, and there are several important things to consider.
When house hunting, you should plan your budget carefully and make sure your monthly income can cover the monthly mortgage payment for your ideal home. After that, there are three key parts of the house hunting process: (1) things to do immediately; (2) things to do after buying; and (3) closing on your new home.
To start off, here are some first things to consider:
Monthly Income: Ensure that your current income meets or exceeds what's necessary for the monthly mortgage payments of the property you wish to buy.
Ideal Home: Make a list of features you need and want in a house so that you can identify which homes meet all of these requirements while house hunting.
Checklist: Create a checklist of items that must be included in any potential home purchase, so you know what questions you should always ask during showings.
When viewing prospective houses, it's important to watch for major problems, such as structural or water damage, and minor details, like outdated appliances or other aesthetic flaws. To evaluate each property objectively, use this time-tested checklist when viewing homes: location/neighborhood; condition/appearance; size/layout; amenities/special features; age/style; price range/value comparison.
Action Items
Once you've found one or two properties that fit what you're looking for, it's time to look at what needs to be done.
Things to do immediately include getting pre-approved for a loan from a lender and learning about state laws regarding real estate purchases. Additionally, research potential neighborhoods thoroughly by taking walks around them during different times of day and talking with residents who live nearby if possible – this helps get a real sense of whether or not living there will suit your lifestyle now and in the future! Lastly, don't forget about home insurance – it'll protect your investment if something unexpected happens after closing!
After making an offer on the house and having it accepted by the seller comes Things To Do After Buying, including ordering inspections such as pest control service or radon tests if needed depending on where the house is located, along with ensuring any necessary repairs have been completed before closing day. Finally comes Closing On Your New Home, which includes signing all documents related to transferring ownership, such as deeds, title searches, mortgages, and more. This process can take several weeks, so ensure everything is handled properly by working closely with trusted professionals.
Once all paperwork has been finalized, congratulations! You've made one giant leap closer to owning your home!
Requirements to Buy a House: What You Need to Know
Owning your own home is an exciting endeavor, but it's important to be aware of the requirements you'll need to fulfill before taking the plunge. Purchasing a home is one of life's biggest investments and requires several steps that are often overlooked. To make the process easier, here is a list of what you will need:
| Step | Requirements |
| --- | --- |
| Find a House | Look for houses within your budget and location preferences. Once you choose a house, submit an offer on it. |
| Get Home Inspection | Hire a qualified professional inspector to check for any potential problems with the property. |
| Qualify for Home Loan | Obtain pre-approval from lenders and compare mortgage types to determine which best fits your needs. |
| Sign Purchase Agreement | Put together all the necessary documents with help from your real estate agent or lawyer and sign them at closing. |
| Pay For The Home | Make arrangements for financing or pay cash if you can afford it. |
| Home Insurance | Shop around for insurance coverage that best suits your needs and budget. |
Once all these requirements are met, you will be ready to purchase your home! It's important to remember that there may also be additional costs such as closing fees, taxes, moving expenses, and more associated with buying a home, so always consider those when creating your budget plan. With careful planning and research, however, owning a home can be an enriching experience!
Schedule a Home Inspection: What to Look for in a Home
Schedule a home inspection to ensure you get the best possible property – it's an important step, so don't skimp on it! An inspection is arguably one of the most essential steps to take. It gives you peace of mind and helps protect your interests when considering any major home purchase.
Here are some tips to consider as you look for the perfect home:
Look for an experienced inspector who can guide you through buying a house and identify potential problems with the property.
Check references from previous clients and make sure they have a valid license.
Before signing any contracts or agreements, ask questions to understand what services will be provided during and after the inspection.
Having a professional assess all aspects of your prospective new home can help ensure that no detail is overlooked, saving you from costly surprises.
Lenders often require these as part of their loan requirements, but even if not required, it's always advisable to have one done anyway. An inspector will provide an unbiased opinion about your potential new residence, so you can ensure you're never making a house payment on something that isn't worth it in terms of quality or value.
Don't forget – finding the right real estate agent and scheduling a thorough home review should be high priorities when looking for your perfect place!
Making an Offer on a House: Closing Costs and Negotiation Tips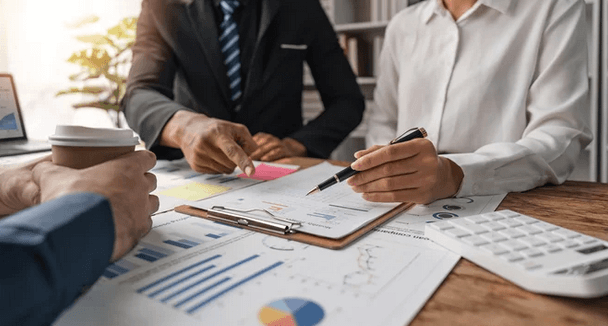 Negotiating for your home can feel like walking a tightrope between two cliffs – make sure you know the typical closing costs and negotiation strategies to ensure you don't fall off!
When looking to buy, the right real estate agent who will help guide you through the process is crucial. They can provide insight into the home is condition and how much it's worth. They can also advise on how to best negotiate with sellers so that you get the best deal on the home you want to buy.
When considering an offer, many different fees are associated with closing a deal that varies from state to state. These fees must be accounted for when negotiating to avoid going over budget or putting yourself in a financial bind later on. The most common costs include loan origination fees, title insurance, appraisal fees, inspection services, and taxes. Knowing these upfront will allow for better negotiation from both parties involved and get everyone closer to agreeing on a price that works for both sides.
In addition to understanding the potential costs, familiarizing yourself with common negotiation tactics is essential when looking for your first home. Realtors often suggest setting an initial asking price slightly lower than what you'd be willing to pay since this leaves room for haggling back and forth between buyer and seller until eventually settling on a mutually beneficial solution. This helps keep things friendly without either side feeling like they were taken advantage of or cheated out of money during negotiations, which could sour feelings outside of this transaction if not appropriately handled.
Before signing any official paperwork, both parties must double-check every detail with their respective lawyers or advisers. This ensures that nothing was missed or overlooked during negotiations and that everything stated within is accurate according to what was agreed upon by each party previously. Having someone else look over everything gives extra protection while providing peace of mind before officially closing on your new home!
Closing On Your New Home: What to Expect and How to Prepare
Now that you've made it through the negotiation process, it's time to close on your new home – here's what you can expect and how to prepare for the big day! Closing on a house is an exciting but stressful time. It's important to be prepared before you're ready to buy, so read through this guide to ensure you have all of the documents and information you'll need.
When closing on a house, there are a few factors that will influence the size of the home — such as its location, age, condition, and more. It would help if you considered all of these factors when deciding whether this house is best suited for you.
The cost of a home includes both purchase price and closing costs. The closing costs include taxes, title fees, appraisal fees, survey fees, attorney's fees (if applicable), plus other miscellaneous expenses related to buying a home. Additionally, consider budgeting for future home maintenance and repairs that may arise after moving in — especially if the house is still in its early years or has been sitting vacant for a while.
Before signing off on any paperwork at closing, ensure both sides have completed all disclosures and that all numbers are correct. This means double-checking every line item on any document associated with your new home purchase. More importantly, be sure that everything listed in your contract is present in the exact condition when it was recorded when you first viewed it. If something does not meet expectations, don't sign until those issues are adequately addressed!
Homeowner Repair: A Guide to Buying a House and What to Fix Up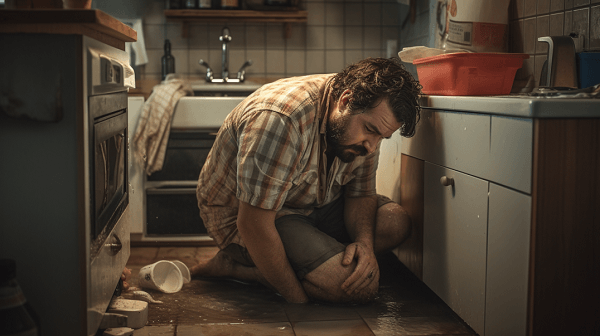 Whether you've just closed on your home or are looking to take the plunge into homeownership, it's essential to know what updates need to be done – and fast! You must meet all the requirements before you can even begin making repairs. At this stage, you should also consider whether or not you are putting your interests first when it comes time to get started.
Once these steps have been taken care of, it is now time to determine how much home you can afford and what property you want to buy with the assistance of various home lending products. Depending on the house's condition, several items may need immediate attention, such as roofing restoration, electrical work, plumbing issues, siding replacement, or any other associated with buying a new house.
| Task | Estimated Cost |
| --- | --- |
| Roofing | $2,500-5,000+ |
| Electrical Work | $200-500+ |
| Plumbing Issues | $300-800+ |
| Siding Replacement | $1,000-2,000+ |
Making repairs is an important part of owning a home – but not all renovations need to be expensive or complicated. There are simple ways in which one can make their home look better without spending too much money. Simple projects like painting walls or updating bathroom fixtures provide an inexpensive way to customize a home without breaking the bank. It's also possible for those more experienced in DIY projects to tackle larger tasks such as remodeling kitchens or bathrooms.
No matter how much money one has available for updates and renovations after purchasing their new home, one should ensure that each step is taken carefully to ensure that everything turns out as expected. Taking advice from professionals and researching thoroughly before committing is key when tackling any project associated with buying a new house, so take your time and enjoy creating your dream space!
Frequently Asked Questions for First-Time Home Shoppers
What are the long-term financial implications?
Home buying is a major financial decision that can have long-term implications for your wallet. You'll need to factor the cost of mortgage payments, taxes, insurance, and maintenance into your budget.
It's important to understand that homeownership comes with certain risks and responsibilities. You could face foreclosure if you are not kept up with your payments.
Additionally, considering how this purchase might affect your finances, such as retirement savings or college tuition funds, is wise.
Ultimately, careful planning and research are essential when making any big financial commitment, like buying a home.
What are the tax benefits of being a homeowner?
As a homeowner, you can enjoy various tax benefits that will help reduce your overall tax burden. One of the most significant is the mortgage interest deduction, which allows you to deduct a portion of your mortgage rate, from your annual taxes.
Additionally, if you have private mortgage insurance (PMI), you may be able to deduct some or all of that cost as well. Other possible deductions include property taxes paid and points paid when taking out the loan.
Being informed about these potential deductions can help maximize your savings come tax time.
What types of insurance should I consider?
It is wise to consider several types of insurance to protect yourself. Firstly, it's important to have home insurance, which covers the structure of your house and any possessions inside.
Additionally, mortgage protection insurance can cover payments if you're unable to work due to an accident or illness. Furthermore, flood insurance may be necessary depending on location and other factors.
Interestingly, statistics show that about one-third of all homeowners in the US don't have enough coverage for their property! Therefore, when purchasing a home, it's crucial to research different types of policies to protect you in case of any unexpected events.
What are the common pitfalls of buying a house?
Buying a house is an exciting time, but there are many pitfalls to look out for. Firstly, be aware of hidden costs such as closing costs or legal fees.
You should also consider the property's condition – is it structurally sound? If you're considering a fixer-upper, make sure you know what fixes need to be done and that you have the budget for them.
Don't forget to check on any potential zoning issues, either. Lastly, always get a home inspection before signing off on anything.
Doing your due diligence now can save you from costly surprises later on!
What are the most important characteristics to look for?
Do consider the key characteristics that will best suit your needs. Look for factors such as location – including proximity to schools and amenities – as well as size, condition, layout, garden space, and parking.
You should also consider potential structural problems, outdated fixtures, or fittings that may need updating. Additionally, find out if any planning restrictions on the property may affect future renovations you plan to make.
It's essential to research this information thoroughly before deciding on an offer on a property so you know exactly what you're getting into!
Conclusion
Congratulations! Now that you've gone through all the steps of buying a house, you're officially a homeowner. You've researched, got preapproved for your mortgage, and negotiated to get the best deal.
But before you start celebrating, remember that owning a home also comes with responsibilities. You'll need to budget for regular maintenance and stay on top of any necessary upgrades. Don't let this discourage you. Your hard work will pay off as long as you diligently care for your investment.
With careful planning and dedication, owning a home can be one of life's greatest joys. If you would like any assistance throughout the process, feel free to reach out to the team at GatorRated.com.