Pasco County, Fl – Guide to Florida Living
Pasco county is situated on Florida's west-central coast. The county was officially created in 1887 and is home to around 560k inhabitants, according to the 2020 census.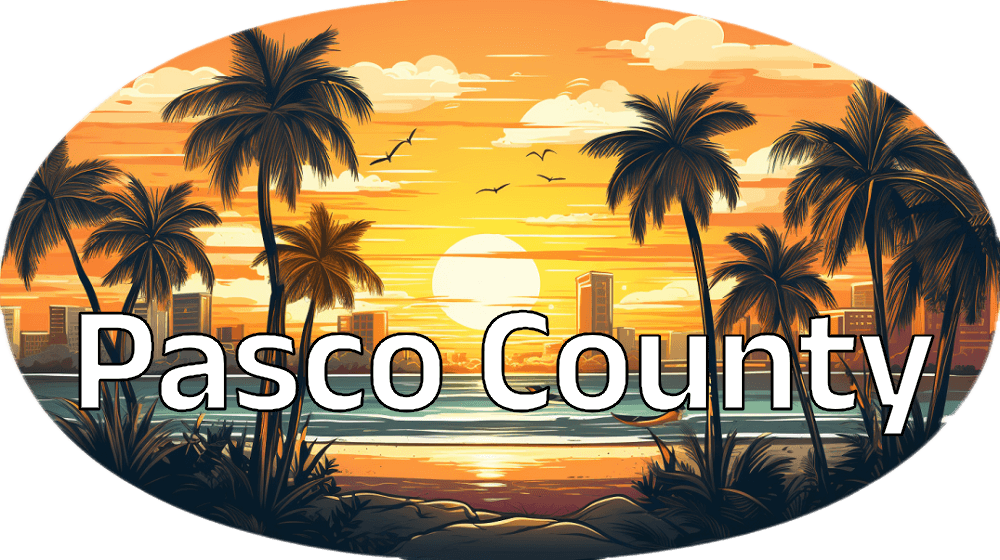 Pasco Country Introduction
The average median home price in Pasco is about $380,000. The place also enjoys a 5.1% lower cost of living compared to the national average.
Pasco County, Florida, is home to both rural areas and a beautiful coastline abundant in wildlife. Pasco County's government is business-friendly, and the state in which it is situated has a right-to-work policy. Additionally, the county's operating expenses are low, and no personal income tax exists.
The location allows quick travel to the surrounding area, including the Tampa Bay area and Tampa International Airport. A major international airport that is considered to be among the finest in the United States. Also, there's access to a deep-water harbor near the Panama Canal.
Cities Within Pasco County
Aripeka
Crystal Springs
Dade City
Hudson
Lacoochee
Land O Lakes
New Port Richey
Port Richey
Saint Leo
San Antonio
Spring Hill
Trilby
Wesley Chapel
Zephyrhills
Pasco Country's Local Economy
According to the Population Division of the United States Census Bureau, the county's expansion effort has brought in a significant number of new inhabitants to the area during the last decade, around 100,000. Workers with new talents and experience that were previously exclusively found in big metropolitan centers migrated to Pasco.
As of 2019, 38% of the labor force has completed at least two years of education, up from 33% in 2010.
Because of this rise in expertise and competency, Pasco County now has a greater concentration of high-tech businesses. One notable company is TRU Simulations, which is in the business of constructing full-flight motion simulators that can reach heights of many stories and have been used by the Moffitt Cancer Center. The said company is constructing a corporation and research district that would include a total of 775 acres. Ultimately it will attract an extra 14,500 high-skill and high-wage jobs to the region.
When it comes to earnings, they have increased as well. Over the last decade, there has been a rise of 18% in household median income, around $32,969.
Pasco County Population Growth
Pasco County is growing at a rate that has never been seen before. 30,000-plus acres of master-planned developments are being built to make the best places to "live, work, and play." Pasco is also one of the best places in Florida to work from home.
These projects are being laid out in such a way that they will have a variety of functions, including residential dwellings, small and big companies, hiking trails, excellent restaurants, and entertainment opportunities. This idea contributes to promoting a balanced and healthy way of life by facilitating safe walkability and increasing community participation.
Recreation Opportunities
There is no shortage of opportunities to enjoy the great outdoors in Pasco County. There are numerous parks, biking, and beaches that may be found all around the county.
You can go all the way across Tampa Bay by using the Suncoast path, which spans 42 miles. This coast-to-coast route is also connected to other trails around the state of Florida.
Biking & Hiking
Many bikers in northeast Pasco go to San Antonio's hills or Dade City's historic district.
If you're not into hiking or exploring parks in the interior of Florida, Pasco County's Sports Coast is the perfect place to go fishing or scalloping. It is the ideal location for an angling excursion since it is near the Gulf of Mexico. Red drum, common snook, and spotted seatrout are popular sports fishes, and the warm coastal waters have brought in many fishermen for years.
Beaches & Watersports
There's also the tropical splendor of Anclote Island State Park, located just off Pasco County's coast. It is the perfect place to explore the sea by fishing charters, boat, or kayak.
The island and the sand bars around it have been popular destinations for local boaters and explorers for years. You will truly feel like you are on vacation in a tropical setting only by taking a 15-minute boat ride.
A full article reviewing the most popular beaches around Holiday can be found here.
Popular Attractions Nearby
If you are open to traveling to neighboring areas, an explosion of attractions is waiting for you. Some of the world's top vacation destinations include Clearwater Beach, Busch Gardens, Disney World & Universal Studios.
Wrapping It All Up
Pasco county is one of the fastest-growing counties in Florida for plenty of reasons. The place has hot and sunny weather almost all year round, and there are endless recreational opportunities, from parks to island explorations.
The place has both rural and metropolitan areas, offering home options for any taste in Pasco County, Florida.