How Much Does It Cost To Build A Florida Room in 2023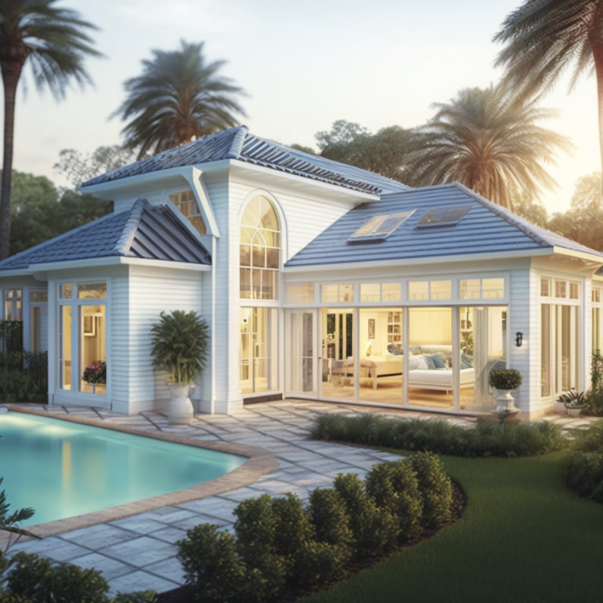 The cost of building a Florida Room is like opening the door to a world of possibilities.
With just one space, you can create an oasis in your backyard that will bring family and friends together for years to come.
Whether you're looking for a place to relax or entertain, this addition can be tailored to fit any budget and lifestyle.
But how much does it really cost?
Let's explore the costs associated with creating a Florida Room from scratch.
Sunroom Cost
The cost to build a Florida room, also known as a sunroom or four-season room, varies greatly and can depend on the size of the structure, the materials used and labor costs.
For example, if you're building a basic aluminum frame structure with single-pane windows and fiberglass insulation, it could cost around $100-$125 per square foot. On the other hand, if you're looking for higher quality materials, such as insulated glass panels in an all-wood frame with upgraded finishes, that number jumps up to $250-$300 per square foot.
It's essential to remember that these are just ballpark numbers; actual Florida Room costs will vary depending on your needs and budget. With careful planning, you can find options that fit your price range while bringing added value to your home.
Next, we'll look at how different types of rooms affect the overall cost.
Room Cost By Type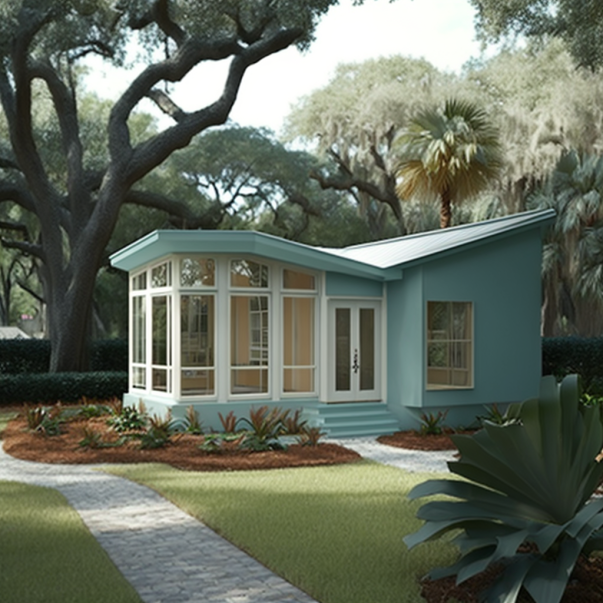 As the saying goes, 'time is money', so it's important to know what kind of sunroom you'll be investing in before calculating the cost. When it comes to sunrooms, there are two main types: four-season and three-season. While a four-season sunroom can be used year round due to its insulation capabilities, a three-season room generally requires some sort of heating or cooling system during certain times of the year.
When determining how much does a Florida room cost, consider the following factors:
Type of Sunroom: Four-season vs Three season
Cost per Square Foot
Location: Climate & Labor Costs
Size & Shape of Room
Additional Features: Flooring upgrades, fireplace etc.
No matter which type of sunroom you choose for your home, one thing is sure – having an extra space that lets natural light in will add value and comfort to any property.
As for pricing out a specific model, this will depend on all the above-mentioned variables plus more! To get an accurate estimation for your project, contact a local contractor with experience building custom rooms like these.
Average Sunroom Cost in Florida
The average sunroom cost depends on the type of home addition being built.
A Florida room typically costs between $125 and $300 per square foot, depending on the size and materials used in construction.
This makes a 12×12 foot room about 1,500 square feet and would likely cost anywhere from $18,750 to $45,000 for the entire project.
Additional Cost Factors
Other factors influencing total price include special features like air conditioning or extra windows.
Labor is also an essential factor when considering how much it cost to build a Florida room.
Professional contractors generally add around 20% to 30% more than the material costs alone due to the labor involved with building permits and installation.
The complexity of the design may also increase this amount significantly if any custom work needs to be done.
With all these considerations considered, homeowners should plan their budget carefully before committing to a sunroom remodel project.
Converting an Existing Deck Or Patio
The cost of converting an existing deck or patio into a new sunroom addition can vary widely. On average, it costs anywhere from $7,000 to over $30,000, depending on the size and complexity of your project.
Various factors affect the cost of these projects, including labor expenses, materials used, roofing type, accessibility options, design features, and more.
| Feature | Low End | High End |
| --- | --- | --- |
| Sunrooms Cost | $7K-$15K | $20K -$30K+ |
| Deck / Patio Conversion | $5k-$10k | $15K -$25K+ |
| Prefab Sunroom Kit Installation | $2k-4k | $6k-8K+ |
Comparing quotes from multiple contractors is important to ensure you are getting the best deal available when deciding how much to invest in your sunroom conversion project.
Prefabricated Sunrooms
If you're looking for a more efficient and cost-effective way to build your sunroom, then a prefab sunroom may be the best option.
Prefabricated sunrooms are cheaper than building from scratch and can save on both labor costs and materials. Depending on the size of the room, the cost of a pre-fab sunroom could range anywhere from $3,000 – $25,000 before installation.
DIY Kits
Additionally, DIY kits are available to help further reduce the cost of building a sunroom in Florida. These kits come with detailed instructions that provide step-by-step guidance so even novice home improvement enthusiasts can easily assemble their own craft room or garden room.
Considering all factors, such as time, money, and skill level involved when it comes to building a sunroom in Florida, investing in pre-fabricated options is often worth considering if you want to cut costs without sacrificing quality.
With that said, it's important to note that there are also plenty of reputable local contractors who specialize in constructing custom-built sunrooms at competitive prices too.
Sunroom Contractor
Look for a sunroom contractor to build your Florida room that has experience building these types of additions, and make sure they are licensed in your area.
Ask your friends or family if they have any recommendations, as word-of-mouth can be an excellent source of information when selecting a reliable contractor.
It's also important to consider the cost associated with a sunroom addition.
Ensure you get a detailed bid from at least three different contractors, so you know what it will cost to build your desired sunroom. Understanding the overall price tag upfront can help prevent any unwelcome surprises along the way.
Benefits Of A Florida Room
A Florida Room, or otherwise known as a sunroom or three-season room, is an ideal new addition to any home. It allows you to enjoy the fresh air and sunshine of the outdoors without worrying about bad weather conditions. Plus, it can provide you with privacy since no windows connect your living space to the outside world.
Building a Florida Room depends on its size and materials used for construction; however, it generally costs less than an all-season sunroom because of its fewer features. Additionally, if you already have a patio or deck area in your backyard, converting that into a Florida Room could be more affordable than constructing one from scratch.
This way, you'll still get to experience the perks of natural light and outdoor atmosphere while saving money at the same time. All in all, opting for a Florida Room is an excellent choice whether you want additional livable space or simply need some extra protection from rain and other elements during certain times of the year.
Final Thoughts
At the end of the day, it's up to you how much money you want to invest in building a sunroom. The cost could range from thousands for a prefab room all the way up to tens of thousands for an addition built by a contractor.
But when I think about what that investment would bring me, I can't help but feel excited at the thought of adding this amazing space as part of my home.
A Florida Room is like bringing sunshine and warmth into your life – literally! Imagine having this delightful place where you can go and relax with friends or family on those perfect warm days we have here in sunny Florida.
Plus, if you ever decide to sell your house, it'll be an asset that will boost its value significantly.
So one last time: How much does it cost to build a Florida Room? It depends entirely on your budget and preferences – but whatever price tag comes with it, know that it's worth every penny spent!
For additional reading about Florida homes, please visit GatorRated.com.