The Best Restaurants in Holiday, Florida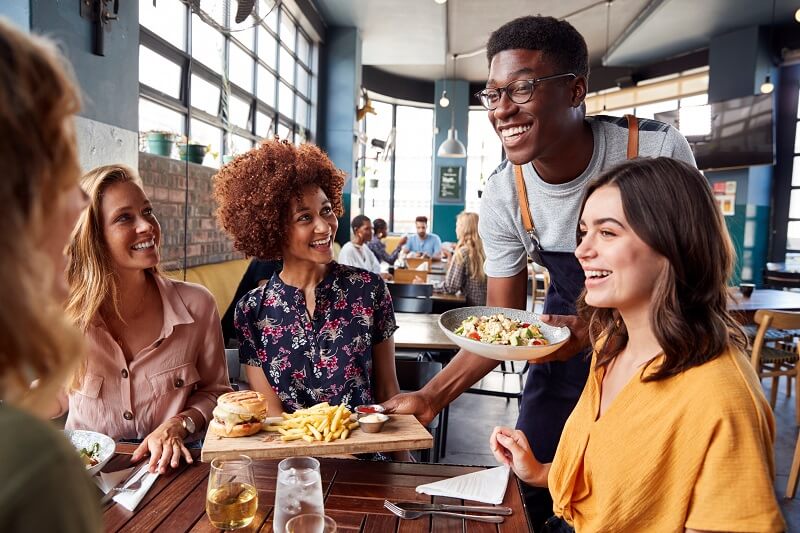 Holiday, Florida, is a suburb in Pasco County, Florida among the Tampa – St.Petersburg – Clearwater region. From beach walks to nature trails, and local attractions, visiting Holiday will present you with endless possibilities for fun and adventure. And of course, the city's food offerings are equally as exciting as the local attractions and activities.
When you're planning a vacation on Holiday, or you're about to hit the city, you need to find the best restaurants that are worth a try. Here are 4 of the most top-rated restaurants in the city, as well as a few other worthwhile restos to try nearby:
1. The Holiday House Restaurant
Recognized for being the best restaurant in Holiday offering breakfast and brunch, The Holiday House Restaurant offers a mix of French regional cuisines, with a menu that changes with the season. Some of the highlights of the restaurant include their Smoked Salmon Benedict and Roasted Turkey and Brie Melt.
Boasting homecooked meals cooked with the freshest local ingredients, the family-friendly restaurant is relatively new but is enjoying a growing clientele among locals and tourists alike.
2. Angelo's Italian Restaurant
A Florida pizza place that offers authentic New York Pizza, Angelo's Italian Restaurant is a family-friendly restaurant beloved by locals. They serve classic New York pizza, such as meat lovers, Sicilian, white, and veggie flavors, but also serve up genuine homemade Italian dishes.
Offering a comprehensive menu, they are open 7 days a week and open for lunch and dinner. Their menu includes appetizers, casseroles, seafood, veal, Scallopini, meat, chicken, pasta, subs, salads, and desserts. There is something for every member of the family on their menu, making it a great restaurant for people of all ages.
3. American 50's Diner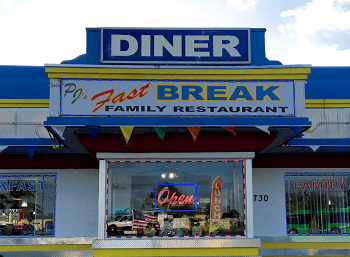 An authentic American diner, American 50's Diner offers a step back in time as you enter the restaurant. With retro decor and interiors, you will truly feel the American diner experience when you dine in this restaurant. Be seated on 50s-inspired tables and chairs, walk on the retro tiles, and gaze your eyes on the vintage memorabilia found all over the place.
But the highlight of the restaurant is the food. They have a genuine American diner menu, which includes pancakes, French toast, spaghetti, burgers, grilled bacon, coleslaw, and chicken soup, and for dessert, they have ice cream sundaes.
4. Brennan's Sports Pub
Established in 1988, Brennan's Sports Pub is the place where you want to watch a game on their wide-screen TV, enjoy a game of pool, and rub shoulders with locals. It is family-owned and operated and the place also has a liquor store inside. They have classic comfort food that goes well with beer and other alcoholic offerings, such as wings, burgers, and sandwiches.
Going to Brennan's Sports Pub is not just a dining experience but an outing in itself with frequent live bands, pub games, and a lively atmosphere.
Honorable Mentions Near Holiday, Fl
Holiday, Fl is a smaller town, but if you don't mind crossing the town border, there are a few more great options we'd like to share.
1. Rusty Bellies
A family-owned and operated restaurant serving the freshest seafood, Rusty Bellies is located in Tarpon Springs. This waterfront grill restaurant owns its very own boat yard, where boats dock to deliver the fresh catch of the day.
Offering freshly-caught seafood, Rusty Bellies is the best place to eat shrimp and Florida's best catch. Established in 2005, the restaurant opens only from Fridays to Sundays, from 11 am to 10 pm.
2. Prohibition Dunedin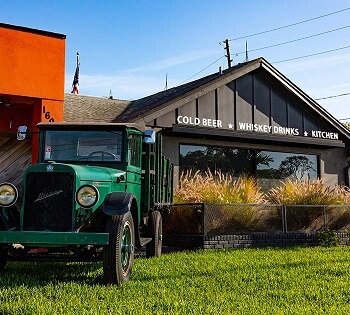 Located in Dunedin, this restaurant was established in 2020 and offers southern comfort food.
With artistic interiors and a smoke-free, dog-friendly outdoor patio, the gastropub is the place to find BBQ-inspired dishes and handcrafted cocktails.
3. Herschels Scratch Kitchen
Also established in 2020, this restaurant offers traditional European cuisine with a twist of American flair.
Chef Chris Muller concocts simple and flavorful dishes, including his famous skillets, for customers, for breakfast, lunch, and dinner.
4. Hellas Restaurant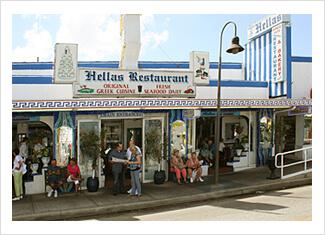 Having been opened in 1950, this authentic Greek restaurant has been serving classic Greek cuisine to locals and tourists for over half a century. Located in Tarpon Springs, this is the top restaurant to experience genuine Greek dishes with recipes that have been handed down for generations.
Some of the highlights of the menu include the Saganaki, which is an imported Greek cheese, as well as the Greek Avgolemono, dubbed by the restaurant owners as the best chicken soup in the world.
5. Bayou Bistro
Opened in 2006, Bayou Bistro offers an eclectic menu with everything from seafood to pizza, to burgers and steaks. They also have a full bar with liquor and drinks that go well with their menu. Located in the Bayou Vista community, the restaurant is famous for its gourmet pizza and Parmesan Catfish Fillet.
Final Thoughts
There you have it, 4 of the best restaurants in Holiday to try, as well as 5 other restaurants in the nearby areas that are a must to visit. Take your pick from American to French cuisine, southern comfort food to Italian dishes, the freshest seafood you can find, as well as authentic Greek dishes with recipes that come from the secret volt of the family owner.
A weekend in Holiday, Fl is not just for relaxing or outdoor activities but it can be a food adventure all at once, too.