6 Best Places To Retire In Florida
Are you looking for the best places to retire in Florida? Look no further! As a retirement living expert, I'm here to tell you about 6 of the top spots.
From vibrant beach towns to charming small cities and everything in between, there's something for everyone who wants to enjoy their golden years in 'The Sunshine State.'
With so many wonderful options available, it can be difficult to know where to start when searching for your perfect place. Read on to learn more about the very best places that Florida has to offer retirees.
Overview Of Retirement Locations In Florida
Florida is one of the most popular retirement destinations in the US, and for good reason. With its beautiful beaches, warm climate, low cost of living and no state income tax, it's easy to see why so many retirees flock here from all over the country.
Plus there are plenty of activities to keep you entertained year-round – from cultural festivals to outdoor recreation opportunities – making it an ideal spot for anyone looking to retire a sunny oasis.
But with so much variety on offer, choosing the right retirement destination can be overwhelming; each region has its own unique set of advantages and drawbacks that need to be weighed carefully before making a decision.
That's where this guide comes in: We'll look at some of Florida's best places to retire along with key factors to consider when deciding which area fits your lifestyle best.
List Of 6 Best Places To Retire In Florida
Ah, retirement in Florida. What could be more blissful than the sun on your face and sand between your toes? Well, if you're looking for a great place to retire in this sunshine state, look no further! Here are six of the best places:
Tallahassee – Home of two major universities and plenty of outdoor activities like kayaking, hiking, birding and fishing.
St Augustine – A historic city full of cobblestone streets and landmarks that will keep you busy all year round.
The Villages – An ideal spot for retirees who enjoy golf or just interacting with other seniors.
Pensacola – Along the Gulf Coast lies Pensacola – beaches around every corner plus fresh seafood restaurants nearby.
Naples – This chic beach town is home to some of the whitest sands in the U.S., as well as upscale shops and galleries.
Clearwater Beach – Clear blue waters make up this stunning landscape – perfect for swimming, sailing or just chilling out.
Now each one of these places has something special to offer when it comes to living the retirement life in Florida – from big cities to small towns there's definitely something for everyone here!
With amenities ranging from art museums to national parks, recreational opportunities galore and an array of cultural events throughout the year, Floridians can find plenty of ways to relax and stay entertained during their golden years.
So whether you want a quiet spot by the sea or a bustling downtown area with lots going on, these six locations provide diverse options so that any retiree can feel right at home in their new location.
Key Factors To Consider
Retiring to Florida is a dream come true for many – and it's easy to see why. With its sandy beaches, warm climate, and vibrant culture, what more could you want? But before making the move to your own slice of paradise in Florida, there are some key factors that should be considered first.
For starters, think about the cost-of-living in the area where you plan on retiring. If budgeting is an important factor for you or your family, then do research into housing costs as well as other expenses such as tax rates and insurance premiums.
Other considerations include whether you'll need access to healthcare professionals nearby or if public transportation is available in the area. Consider how far away from friends and family you're comfortable with being when deciding on which retirement location would best suit you.
Accessibility can also play an important role in choosing a place to retire – particularly for those who have mobility issues. Take into account local infrastructure like walkability scores, road conditions and proximity to amenities such as shopping centers, parks or hospitals when looking at potential locations.
Alternatively, if outdoor activities are high on your list of priorities consider places with plenty of trails or open spaces so that they can be easily enjoyed without having to travel too far from home.
As part of these considerations climate & weather will inevitably become a factor during the decision process.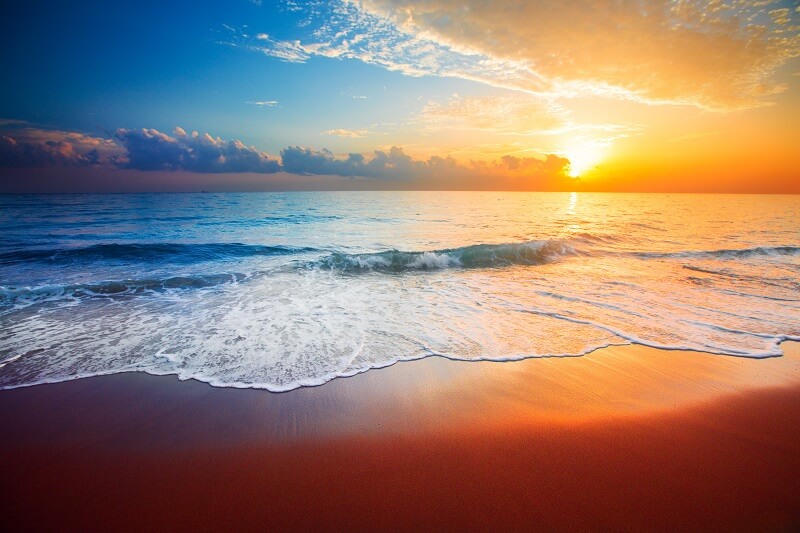 Climate & Weather
Regarding the climate and weather in Florida, retirees can count on plenty of sunshine and warmth. The average temperature statewide is about 70 degrees year-round, with summer highs around 90 degrees and winter lows near 50.
Of course, these averages will vary depending on your location within the state — so make sure you research the specific area(s) you're considering before deciding.
Rainfall also varies widely across Florida, but most areas receive between 40–60 inches per year. Some parts experience more than 60 inches annually while other cities see less than 20 – so be sure to factor this into your choice as well.
All in all, though, there's no denying why Florida is one of America's top retirement destinations: its warm temperatures, sunny skies, and beautiful beaches are hard to beat!
It goes without saying that the cost of living should always be considered when deciding where to retire. In fact, for many seniors on fixed incomes, it's just as important an issue as climate.
Cost Of Living
The climate and weather in Florida offer a sunny escape from the cold winter months of other states. But, for retirees looking to settle down in the Sunshine State, cost of living is an important consideration.
Fortunately, there are many affordable options throughout the state. Compared to other cities around the country, you can find more house for your money here — often with amenities like pools and private yards — giving Floridians the chance to enjoy their retirement years without breaking the bank. Plus, no income tax makes it even easier on those living on fixed incomes or pensions.
There's also plenty of access to quality of life amenities such as nearby beaches, parks, shopping centers and entertainment venues that make Florida an attractive place to retire. With so much variety available at reasonable prices, one can see why retirees flock to this tropical paradise year-round.
Quality Of Life Amenities
When it comes to retirement living, Florida offers a wide range of amenities to ensure that seniors can enjoy an active and fulfilling lifestyle. From world-class beaches to serene lakefronts, the state's natural beauty is second to none.
In addition, there are plenty of cultural attractions such as museums, art galleries, and theatres for those who want more than just sun and sand. The real draw of retirement in Florida though lies with its many communities built specifically for older adults.
These offer everything from golf courses to swimming pools, country clubs to gyms – so no matter what kind of activities you're looking for, there's sure to be something perfect for yourself or your loved one. Not only do these provide excellent opportunities for social engagement but also peace of mind knowing that all necessary medical services are close at hand should they ever need them.
With all this in mind, let's take a closer look at some of the best places to retire in Florida…
Frequently Asked Questions

What Are The Tax Implications Of Retiring In Florida?
Retirement in Florida is an attractive option for many people looking to enjoy the sunshine and warm weather during their golden years. But it's important to consider all of the implications, including tax considerations when making such a decision.
Knowing what taxes you may be expected to pay can help you make a more informed decision as you plan your retirement.
Are There Any Health Care Benefits Specifically For Retirees In Florida?
Retiring in Florida has many benefits, especially regarding health care. According to the Department of Elder Affairs, over 3 million adults aged 60 and older live in Florida and have access to special health care plans specifically designed for retirees.
These plans provide coverage with lower premiums and out-of-pocket costs than traditional health insurance policies. Furthermore, seniors enrolled in Medicare can take advantage of additional discounts on prescription drugs as well as free preventive screenings at hospitals across the state.
With such generous benefits available for retirees, it's no wonder why so many people choose Florida as a great place to retire.
Are There Any Special Discounts Or Perks Offered To Seniors In Florida?
As a retirement living expert, I can tell you that special discounts and perks are offered to seniors in Florida.
In fact, many businesses across the state offer discounted prices on goods and services specifically for retirees. For example, some restaurants may give senior citizens 10% off their meals or free drinks with certain entrées. Other retailers may provide exclusive coupons just for seniors as well!
Additionally, many public institutions such as libraries and parks often offer reduced admission fees or other benefits to older adults in Florida.
Is There Public Transportation Available In Florida For Retirees?
Are you looking to retire in Florida and wondering if there is public transportation available?
As a retirement living expert, I can tell you that yes, many parts of the state have great access to public transportation for seniors. Most cities and towns offer reduced bus and rail fares for retirees, so it's worth researching when considering where to settle down.
Additionally, some counties provide special shuttles or services specifically designed with older adults in mind—so don't forget to ask about those as well!
Are There Any Special Programs Or Activities Offered By The State Or Local Governments Specifically For Seniors?
Yes, some great programs and activities are offered by the state or local governments specifically for seniors.
Whether you're looking to stay active with a senior sports league, take up a new hobby at an arts & crafts class, or simply just want to get out of the house with your fellow retirees – it's all possible!
Many cities have special discounts available too, so be sure to check your local area for any perks that come along with being retired in Florida.
Conclusion
It's no secret that Florida is one of the most desirable places to retire. With its warm weather, beautiful beaches and low cost of living, it's easy to see why so many retirees choose this state as their home.
According to research from AARP, over a quarter of Floridians are age 65 or older – making it the highest percentage in any US state! Retiring in Florida can have both financial and lifestyle benefits for seniors.
The taxes are incredibly favorable compared to other states, with no income tax on Social Security or pension benefits. There are also numerous discounts available specifically for retirees, such as reduced rate movie tickets and free entry into some attractions. In addition, there's plenty of public transportation options available throughout the state which makes getting around easier than ever before.
Florida offers a great combination of tax incentives, health care benefits and senior programs perfect for retirement living.
For more information on finding a perfect Florida home to retire in, please visit GatorRated.com.